Poor Joe during a severe allergic reaction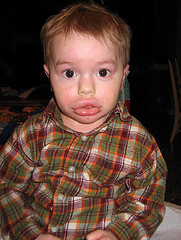 We had a real scare last night, that almost resulted in a trip to the ER, but thankfully, did not.  As many of my friends and family know, Joe has had severe eczema and also has some pretty bad allergies.  Normally, I bring food along for him, in case we eat out, but occasionally we're in a hurry and I don't have anything on hand.  Yesterday, we went to see the new Polar Express movie, and then had a quick sandwich at Subway in the mall.  I always get the same Veggie Patty Sub, and Joe kept yelling "bite"… "bite"… Having had no major reactions in quite awhile, I broke off a tiny piece (quarter size) of the veggie patty and he ate about half of it, and a cucumber with maybe traces of the honey mustard dressing on it.  Ok… all is fine.  I put him the stroller and we cruise through the mall back to our car.  He fell asleep on the way, and Flo and I were looking at books in the book store, so I figured I'd enjoy the peaceful browsing.  So, on our way through Sears, where the car was parked, I glanced down at him and had to do a double take.  He had big hives on the side of his face and forehead, his eyes were all puffy and his lips were swollen about five times their normal size.  He didn't even look like himself.  I tried to calm myself, as hives and such are a common occurance with Joe, but never this severe.  I woke him up, and he seemed alert and breathing fine, so I put him in the car and headed home, all the while trying to make sure he was coherent.  When I got home his lips were even bigger.  Darren was shocked.  We were just on the way out to the ER, when I remembered the fact that it's $100 copay everytime we go to the ER, and we've gone a couple times with things that seemed ridiculous by the time we waited an hour in the waiting room.  So, we decided to give it an hour and monitor him closely, and see how we felt then.  We gave him ice water, and took him for a walk in the fresh air.  His very large lips were upsetting him, but he was breathing fine.  Anyway, long story short… an hour later, he didn't look worse, and was acting fine, so we gave it another hour, and it was starting to subside.  I stayed up most of the night reading, just checking on him, and by this morning, he looked almost like himself again.  By this afternoon, the swelling had gone away.  I've said it before, but it's true… I never knew what stress was until I had Joe.  Of course, even with all we've went through, I'm so thankful he's with us, and I'm sure the saying "What doesn't kill you makes you stronger" has much truth to it.
Anyway, that was the most eventful thing of the week.  I'm hoping we don't have any episodes like that for awhile… or ever again, would be fine, too.  And, I think we'll stay away from eating out for awhile… it's just so hard to really know what you're getting. 
Today I painted our powder room (tiny bathroom).  It took me about two hours, during which time, Darren was "watching" the kids.  Granted, no one was injured, but when I emerged from the bathroom, I was horrified to see the disaster that awaited.  Dirty dishes everywhere, toys all over, books strewn around, two televisions on, and Darren calmly sitting in a chair while the kids played amongst the clutter.  Irritating as may have been, I was actually jealous of Darren's ability to not care about the mess.  :-)  Wait a minute, why would he care?  I'm going to have to clean it up while he's sleeping tonight… Of course, he has to get up at 4am, so I won't complain.
Yawn… long day… need sleep… Thank you for tuning in for this episode of "Tara's Ranting and Raving"… Stay tuned for future episodes, jam packed with all the stress, anxiety, and joy of family life in middle-class America.  :-)  Ciao for now!