What? Barbie shoes were not small enough? Now there's Polly Pocket; minaturized, rubbery Barbie dolls. Yeah! I've spent quite a bit of time picking Polly's rubbery purses and accessories out from the rotary bar of my vacuum. But, from a little girl's perspective, they're apparently great fun, because Flo carries them everywhere, and she and her little friend, Megan, entertain themselves for hours making up little Polly skits and Polly worlds… Oooh… the Polly potential is endless!
We've spent the past week or so, searching for homes in the town of Chambersburg, PA with my mom. She has decided to relocate down here for the time being, since we plan to be here for at least the next five or so years, and she'd like to be closer to us. She has got a buyer for her condo in Connecticut, and had a house down here (Chambersburg is a half hour from where we live), but she's now not sure she wants the house because it's new construction and the cost is getting a little high. So, she's decided to look around a bit. House-hunting with two little kids is a tad exhausting. I think I will let my mom venture out on her own tomorrow. I'm watching a show on HGTV where a guy made a home out an an old school bus. Maybe I'll mention that to my mom… compact living and mobile… what more could you want?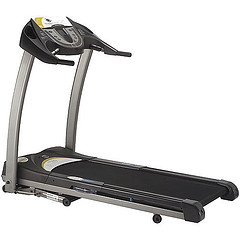 My new treadmill arrived today! I decided to get a headstart on my New Year's resolution. Quite fancy. Check back in six months to see if it's still being used for physical fitness or a clothes rack. This one goes up to 12 miles an hour. I can't believe anyone can actually run that fast on a treadmill. After about 4.5 mph, I'm in danger of being flung off into the wall. I would assume, though, that there are some really fit and athletic people that would actually use the 12 mph setting. I, however, prefer more of a casual stroll.
Anyway, off to bed… Happy Holidays!