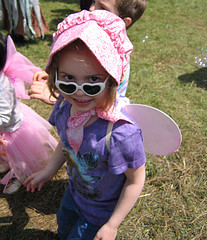 Wow… it's May already! We began the month by going to the Faerie Festival up near Glen Rock, PA. It was muddy, as it was on a farm and had rained the previous days, but it was still a good time. It was interesting to see all the people that dressed up in faerie garb, and there were tons of great vendors. The highlight of my day, being the food-focused person that I am, was the amazing vegan hempseed baklava, made by a company called Hempzels. Flo had a great time… She got a set of faerie wings, took a pony ride, and danced around the May pole.
Now that the "school" year is winding down, I've been reflecting on our first year of homeschooling. I can't believe how quickly it's gone by. We've met tons of great people through the local homeschooling community, attended a lot of fun activities and made good academic progress, considering our rather relaxed approach.
Darren is getting burned out with the long commute to and from DC. I don't think he'd be able to keep this up long-term, if he weren't going to be able to work at home by next year. That should dramatically change his schedule for the better.
Joe is getting big, and his favorite word is "no!" We recently got a back deck with a gate on it, so Joe's new hobby is to sit out on the deck and watch the construction trucks behind us as they work on the neitghborhood.
Well, off for another fun-filled day at the Petite House! Have a good one!