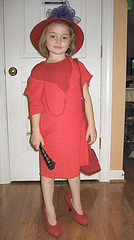 Here's Flo trying on Grandma's Red Hat Society garb. She kept asking my mom why she can't go to meetings with her. It told her she should start her own society… maybe the Pink Pants Society… hmm…
Things are going pretty well. As long as I don't mention the puppy too much, Flo has accepted that we made the right decision returning him. Of course, it still feels bad, but I guess that's a lesson in life.
This morning I got up early and spent two hours frantically cleaning the house because we were supposed to have an appointment with an appraiser because we're tryign to refinance our mortgage. Just as I'd finished cleaning and was ready to jump in the shower, the guy called and said he couldn't come today due to some figures that needed to be check or whatever. Argh… that was irritating. I guess that's the only way my house will every look really tidy, though… So, I guess it served a purpose.
I think winter is finally setting in. I practically froze tonight taking my walk around the neighborhood. I think I'm going to have to retreat to the treadmill in the basement pretty soon. With any luck, Darren will be working at home by the New Year, so hopefully he can avoid commuting during the crummy weather.
There's some cheezy kids music playing on the CD player. It's amazing how this has become the background to my life… and it isn't even annoying anymore. Hey Victor, Hey Vito, Let's eat a burrito! La la la!
Bon nuit.