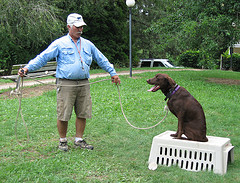 Bruno was sent off for training at Ponderosa Kennels for a month at the beginning of July. This is him at the end of week one when we went to visit and see how he was doing. They are working on basic obedience and with his fear of people, and we were impressed at how well he seems to be doing. We decided to invest in this program for him with the hopes that it will make everyone happier… including Bruno. I know we'll have to work with him to keep up the training, but it's nice to have a professional get the ball rolling.
So, since Bruno is gone for the month, and Chip is no longer with us, we're really feeling strange. I haven't been dog-less in a long time. We really miss Chip. I miss his noises and his excitement over getting a bone every night before bedtime when I'd set the alarm on the house. The "beep-beep" of the alarm system always alerted him to the fact that it was time for bed and he was going to get a bone. I wonder if Bruno will miss his old buddy. But, life goes on…
Darren's commute is still a big downer. He's still keeping an eye open for any interesting new positions that pop up in his agency and hoping that he'll get to work at home again soon. He's tired with the commute, but is doing great with his weight loss. He's lost about 40 pounds, and we just recently started the Eat to Live six week program. It is basically a vegan, whole foods diet, elminating sugar, saturated (and excess) fat, salt & caffeine. We kind of went through a minor detox the first few days, but now it feels good to be eating such healthy, fresh food. Of course, it will be a challenge to find a balance we can maintain long term, but I think it's just annother step in the drastic lifestyle improvements that I've made over the last year and a half… and I guess I'm rubbing off on Darren, too. He's getting his cholesterol tested in a week or so, and we're crossing our fingers that it will be down signficiantly. He really would like to avoid taking medication for that. So, we'll see.
The kids are doing well. Joe fell out of bed last night and got a big bump on his forehead in the SAME place he always bumps his head. Jeesh! And the funny thing is that he fell out of bed a week or so ago, and startled himself, so I put pillows all along the side of his bed. So, last night, where does he fall? Off the END of the bed! We have all wood floors, but his mattress and boxspring set on the floor, so there's not too far to drop. Anyway, so now his whole bed is surrounded by pillows and blanket, just in case.
Flo is counting down the days to her birthday party. I can't believe she's going to be seven years old! Yikes. She's having a "Flower Fairy Tea Party." I've yet to put much thought into the details of this. I guess that's on this weekend's agenda… a few crafts, a few games, a few snacks, a cake and we're good! A friend of ours has volunteered to make a cake for us. Last we heard she was trying to perfect a vegan, gluten-free cake, so all the kids, with their varied food allergies, can indulge. It will be interesting to see how that goes.
Thankfully, tomorrow is Saturday… the possibility of some relaxation exists… yeah!