Summer is definitely flying by! We started off this month with a 4th of July yard sale. Our community has a mile-long yard sale, all up and down the main road in front of our neighborhood, so it's quite the event. We dragged out a few things, but Flo was most excited about having a lemonade stand with her friends. It was quite the entrepreneurial adventure and a less in profit sharing. She and her two friends, Emma & Dara, each made ten dollars, despite the fact that I think they drank more of their product than they sold. Joe tried to get in on the action, too, but often got distracted talking to their customers, forgetting all about the lemonade. He's quite the chatty guy these days!
The kids have been inspired by a book we read recently, called Fast Food. It's a picture book that shows different foods made into pictures of various vehicles. Everytime I try to cut up a piece of fruit or a vegetable, either Flo or Joe is trying to steal it to make "Fast Food"… Joe tried to make a boat out of one of my muffins. It sank. I attribute that to the dense nutrition packed into them, and choose not to liken them to bricks.
We had a yoga workshop at our house. A friend who enjoys yoga and working with kids offered to do a few hour workshop, with some yoga and related craft projects. Flo really enjoyed this, and Joe was able to get in on the yoga a little bit, without being too disruptive.
Flo took a week long group music class with her former piano teacher. I think it was just what Flo needed. The last time we tried piano lessons, she was too distracted to really focus, so we decided to wait a year. But this class did some theory and music basics and will be a good start to trying music lessons again.
Flo also had her last beading class this month at Potomac Bead Company. She really enjoyed this class, and made some interesting looking pieces of jewelry. Hopefully they'll offer something again in the Fall.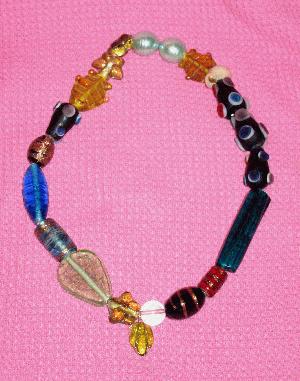 Sadly, the kids had a lesson in loss this month, too. We had to say good-bye to our old chocolate lab, Chip. It was really sad. Flo chose not to come with me to put him down, and of course, I don't think they really grasped the fact that he was gone for good for a few days. But, they'll have fond memories of him, just as Darren and I do, and he will be missed.
On a healthy note, this month we joined our local Gold's Gym. They have a great kids area, and I've actually been going frequently, so they've had a chance to enjoy the facilities a bit.
So, overall, a good month, filled with lots of learning and new experiences.