Darren had to work overtime today, so I had the insane idea that we'd get up at 5am with him, and spend the day in DC while he was working. But actually, despite the early hour at which I had to drag myself out of bed, it was a really nice day. I was even surprised at how chipper and good-natured the kids were at that hour.
We parked near Darren's work, and I had pritned some Driving Directions from 1722 I St Nw, Washington, DC to 3301 New Mexico Ave Nw, Washington, DC" target="new">MapQuest directions to a neat little toy store I found on-line and I thought the kids would enjoy. This 3.8 mile stroll ended up being more like a 5 or 6 mile hike, because I got us lost a bit. We enjoyed our stroll through Georgetown, stopping at Barnes & Nobles, and a couple Starbucks stores to make use of their facilities and replenish fluids, as well.
The Tree Top Kids toy store was really nice. Joe enjoyed playing with the train set for quite some time, and Flo used her allowance money to add another Groovy Girl to her ample collection. Joe got a little felt bag filled with those polished rocks, and that kept him busy in his stroller for the next two hours. That was great!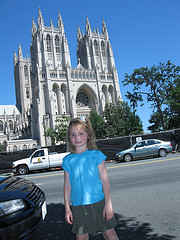 After the toy store adventure, I thought I'd continue the walking theme for the day, and do a couple more miles to the Whole Foods Market in Tenley Town. Of course, this ended up being more like four miles, because of the maze of streets intersecting with 40th Street. We walked the length of Wisconsin Avenue, stopping in front of the National Cathedral, which appears to be under construction, to take a quick picture. It's quite the impressive structure.
Flo was a trooper and walked most of the way, but sat on the front of Joe's stroller for awhile, too. I swear, I've gotten my money's worth and more with that stroller. Flo & Joe, along with all our junk, have to weigh close to 90 pounds, and it has survived worse over the past couple years. I don't know how people ever managed without strollers. Of course, it's a pain to manuever inside sometimes, but Joe would be even more of a handful without it.
Anyway, we finally arived at Whole Foods Market around 3pm, just in time to fill a few salad bar trays, grab some veggie sushi, fruit and drinks, and meet Darren, who had taken the car and driven down to meet us when he finished work. We strapped Joe in the car set, endulged ourselves with the gourmet food American style (sitting in the parking garage in our car) and then headed home.
We stopped for coffee at Port City Java on our way home, and then rounded off the day with a chat with the neigbhors and another walk with Bruno, who greatly appreciated the outing. My mom had taken him for a few hours during the day, though, so he was not too deprived of human contact today.
So, though it was a bit of a marathon day, starting waaaaaay too early for my tastes, it was fun, and provided an abundance of physical activity. The weather cooperated beautifully, being sunny, and slightly breezy. I was only a little hot sometimes when pushing the 90 pound stroller up steep hills in the sun. Otherwise, the opportunities for shade were ample, and the humidity was low, so it couldn't have been better. Today is what I call a "Good DC Day," meaning the drive in was uneventful traffic-wise and only took an hour to drive all the way into Darren's work, parking was good, and getting around was easy. On days like today, I'm ready to pack up our 3000+ square foot house and move into a 900 square foot condo right downtown. Most weekdays, the commute takes over two hours, parking is terrible, and I'm ready to pack up our belongings and head West, in search of wide open spaces. I guess I have to take the good with the bad.