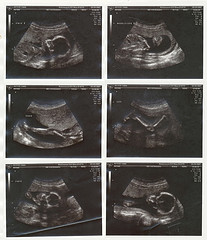 We had the 20 week ultrasound yesterday, which checks for anatomy and everything looks great. And the ultrasound technician was confident it's a girl! Of course, she made sure to tell us that it's only 80 percent accurate… liability, I guess. But, I remember with Joe, even our untrained eyes could tell it was a boy, and this time, it looks like a girl to me!
So, we're excited, and now we can narrow the name selections down to one gender, anyway, which makes it a little easier. Flo was very excited, and Joe took the news rather well. We were expecting a fit of denial, but when Darren told him, he just said, "I know." Maybe he really hasn't grasped what it means, because when I asked him what we should name the baby, he said "Harrison," and then proceded to give me a long list of boys names. Anyway, he has five months more to adjust to it now.
Not much else going on. Darren's birthday is coming up on Sunday. We may go into DC on Saturday afternoon to meet him after working overtime and go out to dinner or to a show to celebrate. On Sunday, we'll just try to relax and get some rest.
Flo is out playing with her friend next door, and Joe is engrossed in his train set, so I'd better go enjoy this moment of peace!