May is going to be a busy month. A lot of the kids' activities wrap up in May or early June. We have our homeschooling review meeting mid-month, and a ton of other stuff thrown into the mix. I've had to keep my calendar handy, or I don't know where I'm supposed to be for the day. I'm definitely going to try to simplify our Fall schedule to incorporate more time at home. Of course, a new baby might just make that happen without much effort.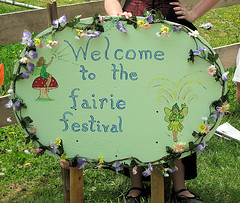 This past Saturday, we went to the Fairie Festival in Glenn Rock, PA. This is our third year, so it's becoming somewhat of a tradition. This year the weather was perfect, and we didn't have to haul the stroller with us, now that Joe's better at sticking with us and walking on his own. He did get a little worn out towards the end, asking anyone who was willing to carry him. But, since the festival is held on a huge organic farm, the terrain was always challenging with the stroller, and we felt much more mobile without it. Overall, we had great weather, and enjoyed spending several hours just checking out all the great costumes, vendors and tasty treats!
This coming weekend, I'm heading off for an overnight with my good friend, Laura, from New York. We're meeting halfway between us in Pennsylvania, so we both only have to drive a couple hours. Her husband, Joe, is fighting cancer, and their whole world has been turned upside down, so she's definitely in need of a little diversion. And, I, now in my six month of pregnancy, am quickly realizing that my opportunities for such getaways will be limited, if not eliminated, for the next couple years, so I'd better enjoy it now! So, I'm looking forward to it.
I just have to get through this week, which is jam-packed with activities. In fact, I'd better get to sleep because tomorrow I have to bring Flo to a birthday party in the morning, then run back and pick her up to go to a Head Start reading program thing with our homeschooling group. Our kids are going to read to a group of pre-schoolers. Should be interesting.
So, off to rest up…