Well, I don't know if it's the official start of summer on the calendar yet, but it feels like summer to me. The neighbor kids are all out of school this week and the temperature's in the 90's today. I'll be certain to be sequestering myself in my air conditioned house, or other equally artificially cool environment, for the next couple months. The third trimester of pregnancy in the summer is not to what most women aspire, but it's not like we can really plan these things entirely. So, I will endure the discomfort and try to keep the complaining and self-pity to a minimum.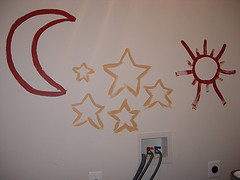 We made good use of the Memorial Day weekend to get a big project done, that we've been putting off. Well, I guess it wasn't THAT big of a project, considering it's one of the smallest rooms in the house, but we finally painted the laundry room, doing away with the lovely art work the kids and I had painted on the almost three years ago when we moved in, thinking we'd be painting over it in a day or two. Then the artwork just became a constant reminder of our procrastination. So, it's finally done. Darren also moved the washer and dryer to the opposite wall, giving me move room to move around, and put up a folding shelf and a shelf for laundry and cleaning stuff. Only a mom could understand how exciting this is. I spend so much time doing laundry, it really is a treat to have a organized, more spacious room in which to do it.
As I mentioned in my last entry, Darren was approved to start working in Martinsburg, West Virginia, at the VA hospital there, which is only 30 minutes from us. Well, apparently, they hit a software snag when trying to get him set up there, and the whole thing seems to have stalled. So, he's STILL working in DC and we're starting to get discouraged about the whole situation. They also keep saying that it will be any day now that the work-at-home program will be reinstated, and he'll be able to do that. Somehow, my confidence in this prospect is greatly diminished, considering they've been saying that for a year. Considering we're having a baby in a couple months, we're not really in a position to start an all-out job search right now, but once the baby is born, and a few months have passed and everyone's doing well, we'll definitely be looking elsewhere with a gusto, if nothing has changed with Darren's commuting situation.
The kids are doing great. Flo is thrilled that her friend, Dara, next door had her last day of school yesterday. Now, from the moment we get up in the morning, I'll be hearing, "Can I go see if Dara can play?" I have to use it as an incentive in the mornings to get things done. "If you practice your piano, do a couple pages in your workbook and clean your room, you're free to see if Dara can play." It seems to be a good motivator.
We had playgroup at our house today, and had a huge turnout, so it seemed like chaos for awhile there. But, it's great to socialize with other moms and the kids had a great time. My mom took Joe to his Little Gym class and then out to lunch for a couple hours, so he came back towards the tail end of playgroup, in time to show everyone his new Lego ambulance my mom had got him. He can get a little carried away with the older boys, so it's sometimes best if his attention gets diverted elsewhere. But, he did well today and enjoyed sometime with Grandma, too.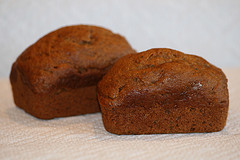 I made a great batch of zucchini bread yesterday. I had a couple zucchinis sitting around, and just made up my own recipe based on a banana bread recipe I had experimented with awhile ago. I was surprised at how well it turned out. Yum. I made it for playgroup, and it's all gone, so maybe I'll have to make some more soon.
On our weekend agenda is re-caulking the shower in our master bathroom. It's pretty yucky and just has to be done. It's not exactly a task Darren and I are fighting over. We also need to start working on our garage, as our neighborhood has a community yard sale on July 4th, and we'd like to take the opportunity to get rid of as much clutter as possible. Darren's working on refinishing a dresser for Joe out there, so once that's done, we'll tackle the rest of the clutter. Aside from that, I hope we can get outside a bit, despite the heat, and maybe take a walk somewhere or go to a park.
That's all for now… have a great weekend!