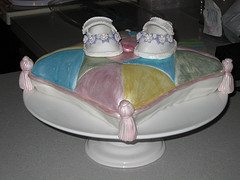 Much to my "almost" surprise, my friends threw a baby shower for me yesterday. I knew something was going on, as my mom never comes and picks me up for an outing on a Sunday afternoon. And as soon as we crossed the border in to West Virginia (5 miles away), I know where I was headed (my friend, Jessica's, house). It was great. I totally wasn't expecting it. This is my third pregnancy, and my first baby shower, so I felt really blessed to have a group of friends here who were so thoughtful as to orchestrate such a lovely afternoon for me. They literally "showered" me with wonderful gifts and fabulous vegetarian food. I couldn't have asked for a better day.
I'm at 32 weeks now, and scrambling to get everything we need done, done before the baby arrives in seven weeks or so. Number one on our to-do list is our master bathroom flooring project. We had a leak in our bathroom shower door, and over time, it's seeped under the vinyl flooring and created a moldy rotten spot on the subfloor. So, that had to be torn out. We've recruited our friend, who also finished our basement bathroom, to tile the floor, but are trying to do all the prep work ourselves to save money. We've got the flooring torn up, and not sure if we should tear out the shower and tub, too, to see if there's damage under there, or if we should just let it dry out for a couple weeks, and tile over it. So, we'll see. Going any further could be a huge job. Darren will be spending the rest of this week, removing the staples that held down the thin luan plywood layer to which the original vinyl flooring was adhered. Not a fun job.
Aside from that, I've got tons of organizing projects, room rearrangements and homeschooling plans to make for the upcoming "school" year. I'm debating whether to kick Darren out of his "office," which is actually the fourth bedroom, and finally create a nursery, which I've never had for my kids. But, the looming possibility that he may work at home, and the fact that the baby really doesn't need her own room for a year or two, keep me from undertaking that task. So, we'll see.
Right now, I've got to write some nice "Thank You" notes for all the wonderful gals that came to my baby shower, and then tackle the dishes and go for a walk.