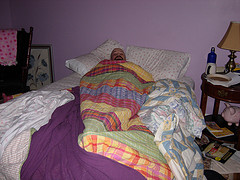 Well, as luck would have it, Darren has a long weekend this weekend, and he's been really sick since Saturday morning. He's spent the last two days sleeping in the baby's room (there's an extra bed in there) and running across the hall to the bathroom. I have to say, I have real empathy for single parents. It must be very difficult for the weekend to roll around and not have a partner with whom to share some of the kid responsibilities. Hopefully, Darren is feeling better by Tuesday morning, so he doesn't have to take any sick leave. I guess if he's going to get sick, at least he's not using up any leave. Let's just hope it doesn't make the rounds to me. I can't take leave!
January is blowing by. We've been busy with homeschooling activities and just trying to stay on top of things. The weather is finally turning cold, which makes it feel more like winter now. I bundled up the baby tonight to go for my walk, thinking I'd take her along in the stroller, since Darren is sick. It was so cold and gusty, I had to cut it a bit short. Zofia didn't seem to notice. She was all wrapped up in one of those snow suit things and covered with blankets. The only part of her that was a little chilly when we got home was her nose. Nonetheless, I think I'll be retreating to the basement to exercise on the treadmill until the temperatures go up a bit. Brr…
I'm waiting on a loaf of gluten-free bread to finish baking, so I can go to bed. It's my baking experiment of the day. I went through a bread-making frenzy last week and made five or six loaves of whole wheat bread, a few of which I froze. It turned out really well, but the problem with making bread is that it's too easy to eat too much of it. But, I wanted to see if I could make a healthy bread for the kids that didn't have any unwanted additives in it. It was a hit with Joe, and Flo liked it okay, but wasn't too excited. I'll have to play around with the recipe. We've also been considering trying Joe on a gluten-free diet, as many kids with multiple food allergies benefit from at least a reduction in wheat products. The problem is, it's become a staple in a lot of the convenience food for him; like cereal, homemade muffins, bread, crackers, etc. So, we'll see. Now that he's five, I think I may take him to the allergist again for some more testing. At the very least, it might give us a little more information to work with.
Zofia was five months old yesterday. She's a big giggler now. She loves laughing at her brother and sister's silly faces and funny noises. Of course, along with her increased alertness, comes an increase in energy expenditure on my part. I'm feeling chronically tired and no matter how much I try, I can't seem to get a good night's sleep. I guess that's something you have to be willing to forego once you have children, but it sure can make a person cranky at times. I try to prioritize sleep for that reason. And since there's twenty one minutes left for the bread to bake, I think I'll be really productive and go finish folding the laundry, because typing is starting to put me to sleep.