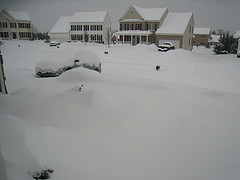 It's been an interesting week of contrasts. First, a sizeable tax return was tempered by several unexpected big expenses. Then, large amounts of snow have slowed the pace of our normal schedule, causing us to reflect on projects needing attention around the house. But, three young kids keep us feeling very busy, regardless of whether we're out and about or snowbound at home. We've made smoothies, drawn up vision boards, built Lego cities, had tea parties, read stories, watched TV and played in the snow.
Of course, the kids have loved the snow and all the fun that comes with it. Their friends in the neighborhood have all been out of school for a few days due to the weather, so there's been no shortage of social opportunities. Darren and I, on the other hand, are getting a bit of cabin fever. The federal government has closed its offices in DC for the past couple days, so Darren's had a little more free time at home. We did get out for a few errands in between storms, but not much else has transpired.
We had a lofty to-do list of projects to check off around the house, but both of us are feeling the lull of the winter weather and not initiating much with regards to housework. Thankfully, the Sears repair guy ventured out at the beginning of the storm yesterday afternoon, and replaced the perforated seal on our washing machine, so today I can resume my normal laundry routine. We were starting to get quite a "laundry mountain" going there for a few days. I'll be sure to scale that today.
Right now, Flo is at the neighbor's house, having gone over for a sleepover last night. She's most certainly is going to require some effort to return home with all her stuff through the mounting snow drifts, despite it being just around the corner. Darren is doing a reading lesson with Joe downstairs, and Zofia and I are sitting her, having yet another "tea party."
Darren is rejoicing in his victory this past summer, during which I wanted to sell our snow blower, that hadn't been used in three years and was taking up a large portion of our garage space. We agreed that if it didn't get used this year, we'd sell it in the next year's summer yard sale. Needless to say, I'm glad Darren prevailed in that dispute. He's dug us out multiple times so far this winter, and will be doing so again later this afternoon or tomorrow; whenever it stops snowing.
So, off to put together something for dinner and admire the winter wonderland outside from the warmth of our house. Stay warm!