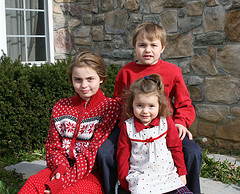 Here in the United States, Thanksgiving has already come and gone. We bid it farewell on Thursday, after a quiet day at home and a simple meal together. We were just thankful to have a day off! But, I guess that means we've officially launched into the 2010 holiday season. Brace yourselves! Well, unless you're one of those people that just thrive on the busyness, and often daunting, holiday preparations. I'm generally not cynical, but the strongest current of this time of year often seems to be one of consumerism, which can threaten to wash away all the pleasantries and joys. Nonetheless, I can't say that the holiday decorations, festive gatherings, and chilly weather, don't spark nostalgic sentiments for me. So, I do my best to create happy memories and new traditions for my kids and our family, while trying to minimize over consumption and the incurrence of holiday debt. Fa la la la la!
That said, I'm looking forward to upcoming holiday get-togethers. And, the kids are already well-prepared with their lists for Santa and eagerness to set up the Christmas tree this weekend. Flo started months ago with a very detailed and organized list for "Santa." She is now privy to Santa's identity, but still enjoys the fun, and may be a little reluctant to let go of the illusion. The fact that she has two siblings looking forward to Santa's return, makes it easy for her to savor the fantasy a bit longer.
Since my last post at the end of the summer, we've all been busy with the activities of this new homeschool year. Flo has a full schedule with guitar, skating, art, and tutoring and a learning co-op. And, Joe is still busy several days a week with hockey practices and games, as well as, various other homeschool activities. His eighth birthday is coming up in a couple weeks, and he is excited about that. And finally, Zofia is now three and giving us a run for our money. She's so much fun, but the kids have lovingly nicknamed her "Destructo Baby." Joe had just gotten through that "dump everything on the floor" stage, and now Zofia is next in line. We spend a lot of time picking up stuff off the floor, but I love her creativity and watching her entertain herself with my pots and pans, or all of the books from the lower shelves of our bookcase. Someday, I'll stand in my tidy, organized home, missing the chaos and dishevelment. I remind myself of that daily.
Darren is still happily working at home. In January, he has to reapply for the work at home program, so hopefully, it will continue. There's always that fear that he'll have to return to the miserable daily commute, but we'll remain optimistic, and enjoy having so much time together right now.
As for me, I'm feeling busy as ever, and trying to balance all the parts of my life. Between parenting, homeschooling, being on the board at our church, helping organize a produce co-op, and trying to keep myself in good health, there doesn't often seem to be much time left to breathe. But, I'm working on that… just breathing… it does wonders!
So, I hope this season finds everyone doing well and looking forward to time with friends and family. As corny as it sounds, it is a magical time of year; especially if we focus on the spirit of the season, fostering friendships and family connections, and knowing that the greatest gift we can give is our own energy, focus and love. Happy Holidays!