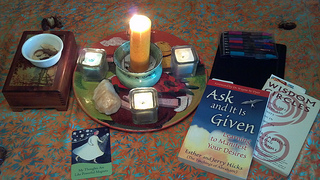 "We are calling the circle and invite you to join us. We yearn for a safe place within which to be authentic, trusting, caring, and open to change. We are searching for a way of life that embraces wisdom and compassion as its core principles. By "wisdom" we mean deep insight into the interdependence of all phenomena, into the ways we are connected and how the strength of each one of us is vital to to the whole. By "compassion" we mean the deep feeling that comes when we recognize our soul's reflection in another person, when that other person's pain or joy becomes our own." ~ Wisdom Circles: A Guide to Self-Discovery and Community Building in Small Groups
This book has been on the bookshelf for years. It offers some great insights into the value of using our "circles" as a catalyst for personal and communal growth. This quote pretty much epitomizes our intentions with creating our family "circle" and our hopes for our children's futures. Wisdom, and compassion are the stuff good character is made of.
Today, we talked about rituals, and how they can be a positive reinforcement for desired behavior. Our family circle meetings are our attempt to create ritual in our own lives, and will hopefully serve to remind our kids, as they grow, of the importance of creating space for reflection and conscious thought.
Finally, since it is around the time of the Fall harvest, we talked about the things we have "harvested" this year. Wisdom, patience, skills, experience and joy were some of the things mentioned, and we wrote these in our gratitude journal.
Zofia was so cute, trying to participate fully in our family circle today. She created her own "family meeting table" and spent time busying herself testing out all the colors of the pens we had on the table for writing in our journal.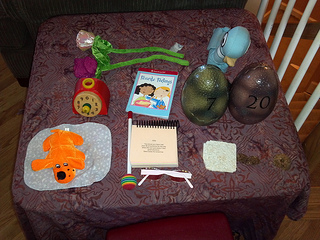 As is our "ritual," we reminded the kids how important their thoughts are, in creating their experiences, and we closed the circle by saying a prayer, and blowing out the candle(s).