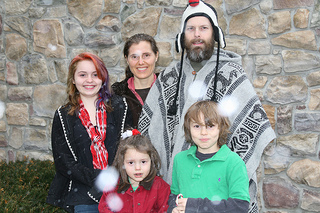 Season's Greetings!  It's Christmas Eve day, and we just headed outside to try to get a family picture, and it started to snow!  So, we all got a little silly, and this is as good as it gets!  Twenty years from now, there will be no regrets about not dressing up properly and heading to a photography studio, because I'll remember this ridiculous scene, of us running around with silly hats, trying to get in front of the camera before the timer went off.  All the while, with bits of fresh snow clouding the lens of the camera, and lending to the comedic scene!
It's been a busy year, and as 2012 comes to a close, we're focusing on things we can do to slow down the pace of life a bit, so we feel like we have more time to savor the good stuff!  And, by good stuff, I mean, these fleeting moments with our kids, time together as a family, time for creative pursuits and just time to take a walk and look out at the sky.  Sometimes we get so caught up in our schedules (my Google calendar facilitates this well) that it doesn't feel like there's enough space in between to catch a breath and regroup.  But, as we step back and examine things, we realize much of this is our own making; our own choices; our own perceptions, our lack of consciousness.  So, once again, parenting, marriage and family life, offer a vast platform from which to foster personal growth.  And, as homeschoolers, we're all on board for this ride!
Everyone here is well, and wishing you all the same!  Darren continues to work for the VA.  He's had a rough year, struggling with an old back injury from the military, which has been causing considerable pain.  So, his focus has been trying to balance work, kids and rest enough to make it tolerable, while seeking out non-drug therapies that can help.  This past summer, he took a short trip to Ecuador with a friend of ours, and brought back some interesting stories and a well-rested demeanor.  Since September, he's been coaching hockey again this year, for Joe's team, the Hagerstown Bulldogs, and they're busy, almost every weekend, trekking around the state for games.  They definitely love it!
Flo is now thirteen, and well ensconced in teen life.  Her academic focus this year is rivaled by her avid social life, but we do okay balancing things.  She loves reading, is working on writing projects and math independently, and takes Spanish and piano lessons, as well.  When she's not engaged in some menial task we've delegated, we can usually find her with her headphones on, listening to music, on Facebook, chatting with her friends, doodling in her art journal, or dying her hair funky colors!
Joe, just turned ten this month.  We're still astonished at how quickly ten years went by.  His first year tested our resolve, and it's pretty much been smooth sailing since.  He's a strong-willed, high-spirited, kid, but he's kind (except, sometimes with his sisters) and inquisitive and keeps us engaged in thought-provoking conversations.  He's all about hockey, Legos, and some of those on-line building games.  He's progressing with learning, though he definitely needs a bit more prompting with reading, than his older sister.  However, if it's something that interests him, it's no problem.  He read all the Wimpy Kid series books this year, and thoroughly enjoyed the movies, as well.
That leaves Zofia, who turned five this past August. She generally tags along to her older siblings activities, and plays with other kids her age at our homeschool group gatherings. This Fall she tried her turn at ballet. It was a six week class hosted by the YMCA. We tried a gym class there a couple years ago, and it did not go well. Keeping Zofia in the room was impossible. So, we figured with almost a two year lapse, she was ready to try again. Remarkably, she did great, and paid attention to the teacher, but after every class, she declared, "I never want to come back here!" Nonetheless, she wasn't too hard to convince to go every week, though, I don't see a budding dance career ahead for her. But, one never does know! She's a ball of energy, and keeps me busy most days, just entertaining her and helping to reassemble the fallout from her creative play. But, we are soaking in this time with her, as she's our last "little" kid.
Lastly, I'm still happily filling my role as domestic goddess, creative facilitator, advocate of positive thinking and just all-around busy mom.  Outside of my kids, my main interests or projects are coordinating a local produce co-op, organizing events for our vegetarian lifestyle MeetUp.com group, helping to facilitate our local homeschooling support group, taking LOTS of pictures, writing as much as I can, and reading!  I'm enjoying all this experience has to offer, and looking forward to what unfolds in 2013.
Have a happy holiday and a great New Year!