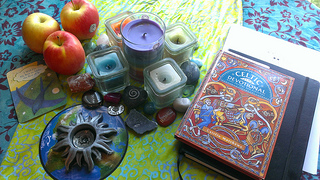 Since it's been a busy month, and we hadn't had time to have a family circle, we decided Earth Day was the perfect day to prioritize making time to be together. Monday's are usually "Media Free Day" in our house, so we figured it was as good of time as any to get the kids' attention! And, Earth Day is also good fodder for discussion.
We opened our circle by reflecting on this quote and inviting awareness and peace.
The ultimate test of man's conscience may be his willingness to sacrifice something today for future generations whose words of thanks will not be heard.
— Gaylord Nelson
Then, we talked about things we can do to be gentler on the Earth & the impact of the "stuff" we consume. We watched The Story of Cosmetics, and patted ourselves on the back for the changes we've made in the past five or six years, minimizing the products we use, and choosing the ones we do wisely. We really don't rely on too many cosmetics. Baking soda, vinegar, peroxide, coconut oil, and Dr. Bronner's soaps comprise the majority of our daily routine, from tooth brushing to cleaning the house.
We also looked up the Great Garbage Patch Island in the Pacific ocean. The kids were really astonished by the videos and photos we found. It could really make you feel overwhelmed at the enormity of healing our Earth will have to do to repair that wound. But, we emphasized to the kids that even the little things than do, CAN make a difference, and talked about ways we could be even "greener" in our daily lives.
In our Family Journal today, we wrote things we are thankful for about the Earth.
We closed our circle with a Buddhist prayer. Darren and I went out to enjoy an evening walk on a chilly Spring night. The kids retreated to the activities in which they were previously engaged before we summoned them downstairs. A good day.
We gently caress you, the Earth, our planet and our home.
Our vision has brought us closer to you, making us aware of the harm we have done to the life-network upon which we ourselves depend.
We are reminded that we have poisoned your waters, your lands, your air.
We have filled you with the bones of our dead from war and greed.
Your pain is our pain.
Touching you gently, we pray that we may become peace-bringers and life-bringers so that our home in its journey around the Sun not become a sterile and lonely place.
May this prayer and its power last forever.
— Sensei Ulrich, Manitoba Buddhist Temple