Well, as usual, we bought too much food, and only a few people showed up for our birthday/anniversary/graduation get-together, but all-in-all, it was a very nice day. The weather was great and Little Joe got to meet Auntie Barb for the first time.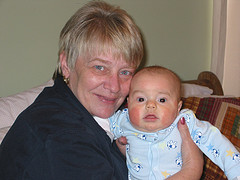 Eek… tomorrow is the big 3-0! I'm not ever going to complain about my age. As my dad used to say, "It beats the alternative"… well, as far as we know anyway… I guess he knows for sure now, and even if it doesn't, I'm glad to still be here in my thirtieth year, trying to figure things out.
Well, off to veg on the couch and drift into oblivion… Bon nuit.