We've been here in Hagerstown, Maryland for a week now. For the first three days we dragged our realtor all over the place looking at houses, but by day four we actually found a house and decided to go with it. It's new construction, so it won't be done for a couple months, but it's in a nice neighborhood, near lots of activities and shopping. The only drawback is Darren will have a good hour and a half commute… half in the car, half on the subway, but he insisted he'd rather have a nicer house and a longer commute. I guess we'll see how he feels about that in a few months.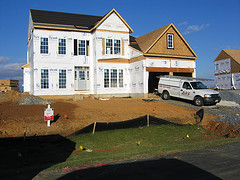 Houses are getting snapped up quickly here, so we had to decide in one day whether to go with this house, and I had to make all the color decisions in about an hour… I'm so not good at making snappy decisions… So, I guess this was good… not a lot of time for deliberation.
Today we're just going to hang out around the hotel and maybe take a drive to do a little more scouting out of the area. As far as New Year's resolutions, my only one is to stop saying and to start doing… so instead of saying "I need to eat better… get in shape… whatever…" – I'm either going to take action and do something about it, or just stop talking about it…
Off to eat my continental breakfast… 🙂 Happy New Year to everyone!