Wow… where did October go? We had a nice Halloween. Flo enjoyed trick-or-treating in our new neighborhood dressed as a little witch. Joe would not let me put any costome on him, so he just tagged along as himself. And I was most impressed with myself for surviving the day without ANY halloween candy. Truely a miracle.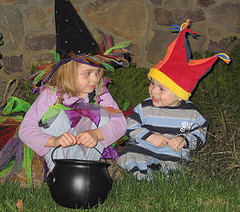 I haven't seen much of Darren for the past week, as he worked six days last week, but we did go do our civic duty together tonight by voting, and subsequently came home and sat on the couch most of the evening watching CNN. That made me think of a dream Darren told me he had last night. He was running from the lava from a volcano, and Bill and Hillary Clinton were there helping him out. He said they were really nice people. Wonder what that one is all about?
Anyway, it's getting tiring watching the analysts babble on out politics and the election, and everyone else is asleep, so I think I'll join them. I have a dentist appointment near Baltimore tomorrow. Fun! Bon nuit!