We all overslept this morning, making getting to church an impossibility. My mom spent the night last night, and was up long before we were, which isn't unusual. Apparently, she got bored and started trying to organize our toy room. I woke up halfway through this massive undertaking and was inspired to pitch in. I can't believe I got four trash bags full of stuff for Salvation Army. Yikes. I was on a roll and almost started working on our bedroom, which is still the last bit of moving clutter left, but I ran out of steam. Oh well… another day.
Joe finally got his own bed. Not that he's interested in actually sleeping in it, of course, but it's there when he's ready and he officially has his own space now. We got a good deal on a Little Tykes race car bed from a fellow homeschooler. He was very excited. Vroom-vroom!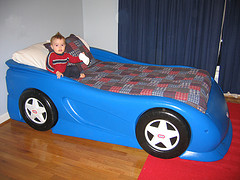 Flo spent the afternoon sorting through her doll collection, doing a math lesson with Darren and having a meltdown when she broke Darren's portable DVD player while trying to start a movie by herself. She came storming downstairs saying she'd never watch another movie… I'm thinking… "hey, that's a good thing"… but, she eventually got over it. Darren originally bought the little DVD player for the bus when commuting to work, but he rarely uses it, so it won't be terribly missed. Bummer, though.
I just peeked out the window and realized it's snowing! This is our first snow of the year.
Well, off to read… good night!