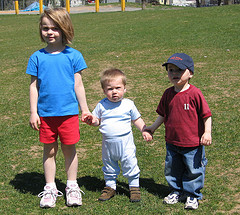 We spent the beginning of the week visiting my friend, Laura, up in Kingston, NY. Her little guy, Harrison, enjoyed being our tour guide for a couple days. We really enjoyed our visit.
We got home on Wednesday, which was Darren and my anniversary… twelve years of marital bliss. We celebrated by taking the kids out to dinner with us. The chaotic adventure was far from romantic, but will be filed as a good memory.
Darren took yesterday off, and joined us for Flo's morning art and gymnastic classes, and we walked around the outlet stores here in Hagerstown a bit, since the weather was so nice.
Today, unfortunately, it's raining. We're having playgroup at our house in about an hour, so I'd better go see if I can round up some fun indoor activities.
Have a great weekend!