We stayed home for a lazy Monday. It's rare that we don't have something planned, and I try to make Mondays our stay-at-home day.
We did some math problems (addition & subtraction) on the new MagnaDoodle writing thing my mom got Joe for his birthday yesterday. Flo actually discovered that it was the perfect erasable surface to use for math.
After lunch, our little neighbor, Dara, came over and played with Flo outside in the snow for over an hour before they were too cold to enjoy it anymore. So, they came in for awhile, and played on the PollyPocket.com website. Flo used my handheld tape recorder to record exerpts of sounds from the website, and then they'd replay them and get a real giggle-fest going on.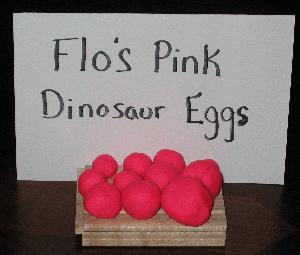 After Dara left, Flo and Joe played with playdough for awhile. While they were doing that, I tried to catch up on my emails. Flo came running in and asked me to write some words (Flo's Pink Dinosaur Eggs) on a piece of paper, then left. Then she came back and announced that she wanted to take me to her museum, which was a bunch of pink playdough balls carefully placed on old sample of wood flooring we had lying around. So, this sparked a conversation about dinosaurs, and we got out a book called "Ask Me: Did Dinosaurs Baby-sit?" It's a book with all sorts of facts and tid-bits on pre-historic animals. Flo was fascinated to learn the some pre-historic fish were as large as buses. Wow.
Before bedtime, we did some sight-word flashcards, because cranky Joe was too much of a pest to allow Flo and I any alone time to read. Besides, it was almost 10pm by the time they were going to bed, and they wore me out today. It was all I could do to hold up the flashcards and not fall asleep on the spot.