Well, it may not be officially Summer yet, but today's temperature was in the low 90's and the heat already felt oppressive. Flo's public school playmates end their school year this week, and we just sent in our annual review, so Summer has unofficially begun.
We kicked off the month of May with a road trip to Kingston, NY to visit my friend, Laura. We had a nice time just hanging out at the Holiday Inn down the street from her house, swimming in the pool and taking a lot of walks. We also got to briefly visit with my Aunt and Uncle, and my cousin's new baby. What a cutie!
The day after we got back from New York, we headed up to Glen Rock, PA for Sproutwood Farm's Fairie Festival. This is the second year we've gone, and it's lots of fun. We didn't have anyone to watch the dog, so we had to take him with us. This limited our enthusiasm for staying too long to listen to music and soak up the atmosphere, but we did enjoy some good food, checked out the vendors and enjoyed seeing an array of fabulous fairie costumes. When we arrived, we were surprised to see a small group of Christian protestors picketing along the entrance path praying for us Pagan souls enticed into the wickedness of the Fairie Festival. Pu-leez. Nonetheless, it was interesting to see them with their signs, while a young man from the festival casually played his guitar, as if they weren't even there.
Our Spiral Scouts group is just starting to get going. This month we met, and the kids did a scavenger hunt for things from all the elements. Then they got to discuss this elemental info with the group. Flo has run with this elemental theme this month, and has enjoyed making many bowls of "nature soup" (aka water, dirt, leaves, rocks, etc) on our front porch.
Flo made up a funny story about how Rapunzel had a knot in her hair and how impractical having hair that long would really be. I can't remember it exactly, but it was entertaining. She came up with it while teaching herself to braid with three chords of different colors.
Last week, we went into DC with Darren when he had to go to work to exchange his completed cases for new ones. The kids and I did a lot of walking, which I really enjoyed because the weather was perfect. We walked the ten or so blocks from Darren's work to the Smithsonian Musuem of Natural History, where we spent several hours browsing around before meeting Darren back at Java Green for lunch. The musuem was a catalyst for quite a few interesting discussions.
Finally, one of the highlights of our month has been the return of Mrs. Robin to make another nest over our front door. This is her second year, and last year she had three babies, one of whom fell out and didn't make it. This year, there were two eggs, but only one has hatched.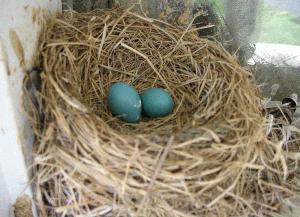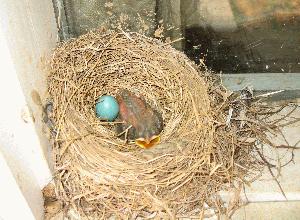 We've been taking pictures, and the kids have really enjoyed following her progress. Mrs. Robin has been the source of many fun earth science related chats. Besids the bird poop on our front porch, it's been fun!
Flo is improving with her reading. She really likes challenging herself with the sight word flash cards, and I notice she picks up more things and just tries to read them, rather than asking me all the time. It's funny how gradual the transition is from non-reader to reader. We've picked up doing a few lessons from the Funnix computer reading program again, as it just makes me feel better to have something quantitative to guage her progress, though I can see it will happen with or without any specific plan. Nonetheless, we'll work on that and just a lot of reading for fun over the summer. Darren's also been looking at a math program from Lively Lessons called Noble Knights of Knowledge, which looks like something Flo would really enjoy. A friend of ours has given it good reviews.
Flo continues to take ice skating lessons and yoga for the next few weeks with homeschooling classes, and we'll have playgroup through the summer, but we're gonig to try to limit the running around and not overschedule our Summer. We'll see how that goes…