June has been a busy month. We started off the month with a trip to the National Zoo in Washington, DC. I think the Elephants were the most fun for the kids to watch. The baby elephant pooped in the water, and it was floating and everyone got a good laugh from that. After the zoo, we walked around DC for the day, until Darren was done with work. So, we got in some earth science and some physical education all in one day!
Around the first week of June, our baby robin that was living in a nest over our front door, finally flew away. It was that same day that Darren's work-at-home program was cancelled, and he said maybe it was a sign, because he saw the robin leave it's nest that morning. Hmm….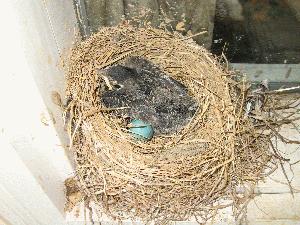 We did lots of art this month. Flo loves to draw. I'll have to post some of her entertaining sketches when I get a chance. We also drew a parot during one of our weekly playgroups, and it turned out quite well.
Flo had some fun lessons this month at church. One Sunday, they studied the aboriginal people of the world, and made a didgeridoo. We got to spend the rest of the month hearing lovely displays of Flo's didgeridoo performances. But, it was fun project.
This session of homeschooling skating lessons ended this month. Both Flo and Joe got their little certificates and badges, moving them up to the next level. I was impressed, since Joe could hardly stand up at the beginning. I just had to let go and let him fall. Then he learned how to get up, and he was off.
Flo's reading has been improving a lot. She's started showing an interest in reading on her own. I'll often catch her sitting by herself, sounding things out. She's been inspired by the Disney Fairy books, as one of her friends introduced her to them, and even though they're a third or fourth grade level, she's determined to get through them, one sentence at a time. I used this opportunity to enlighten her on the benefits of reading comprehension, and how it's important to actually understand what you're reading. She's doing well with her reading program, and it's fun to see her gradually absorbing more information.
On another trip to DC on June 8, Flo had a lot of questions about God, as her few playmates are Christian, and she's heard things from them. I think we had a nice conversation about religion and diversity and how she's lucky to have the freedom to find her own spiritual path as she grows and learns. This area is very Christian, and while that's fine, I want her to know she can make up her own mind, and just because somebody says there is only one God, or Jesus was the son of God, or whatever, doesn't mean it has to be her truth. I think some of it went over her head, but she got the gist of it.
June 14th was a busy day. Flo went to her skating lesson with her friend, Conner, and then they went to the library to sign up for the Summer Reading Program. She's having fun picking out books and doing the tasks for the program. She also started a summer beading class at The Potomac Bead Company. So far she's made a necklace and a friendship bracelet.
Flo wanted me to write down that we tried a Lychee Nut (fruit) this month. It's a weird squishy white fruit inside a thing that looks like a large, prickly walnut, but it's actually a peel. Exotic. Considering they were like $7 per pound, we only got two to try, but it was interesting.
Another fun food adventure was getting a large watermelon and cutting it all up and freezing it. Then we blended it with a little juice and made some really good watermelon slush. Yum. Joe was very excited about this one. He LOVES watermelon.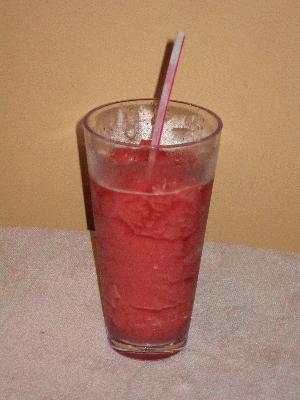 Speaking of Joe, he's got a whole new collection of "big boy underwear" and is making slow progress towards liberating himself from the Pull-Ups (aka diapers without tabs). We have good days and not so good days, but we're trying not to rush him and use lots of positive reinforcement. The most effective approach seems to be to just leave him naked, and then he's more aware that he needs to use the potty. If he has a Pull-Up on, 90% of the time, he'll just go in it. If he has "big boy undies" on, about %75 of the time, he'll ask to use the potty. So, it's slow going, but that's okay….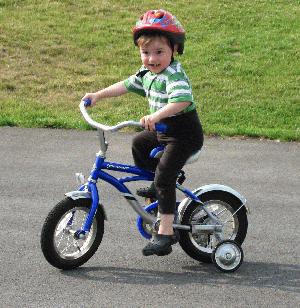 Joe's other big accomplishment this month is that he's now riding a bike with training wheels. He's graduated from a tricycle. We pulled out Flo's old started bike. It's a cute blue little Trek bike. Joe's finally got the strength and length in his legs to peddle, and he loves it. It's so cute.
Joe also has increased his love of puzzles this month. He went to see the movie "Cars" with Darren and Flo, and got a Cars puzzle, which he spent hours putting together and taking apart. It only has about 25 pieces, but it's fun to watch him concentrating. I'll have to find him some more fun puzzles.
On June 17, my friend, Laura, from New York came down with her son, Harrison, for a few day visit. We had a nice time just hanging out, going to the park and showing them around our exciting town of Hagerstown.
Towards the end of the month, we got A LOT of rain. So much so, that we actually had a river running beside our house. We took the opportunity to read a book about the importance of rivers and their connection to our environment. It also hasn't been bad for our grass.
The last week of June, Joe was sick with a fever for a few days, then developed some sort of viral rash. It was very mild, and if my neighbor's daughter hadn't had the same exact symptoms, I would have just thought it was heat rash or something. But, he seems to be no worse for the wear, and is back to his usual rambunctious self.
We're now looking forward to the Fourth of July weekend, when we'll be having a yard sale in our town's Mile Long Yard Sale. Flo and her friend, Emma, are going to have a lemonade stand, and we're hoping to get rid of some clutter. Darren is off for five days, so we're trying to catch up on sleep and chores, while having a little quality family time, too.