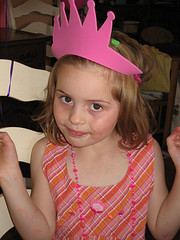 Flo is now officially SEVEN years old. Whoa! She had a lovely day on her birthday. She had seven
friends over for a "flower fairy" party and we did various crafts, played some games and had our cake, and ate it too! She had a great time, but I'm all tuckered out!
Bruno came home from his month-long training session today. He seems to be doing well. We'll have to be consistant with the use of the electronic training collar, until we feel we don't need it anymore. It makes me a little nervous, as these collars would definitely have the potential to really mess up a dogs behavior if the individual training the dog isn't property using it. But, we will continue to work with him at least ten minutes every day to keep up on his commands. I think the program definitely go the ball rolling and has given us a lot of good information with which to work.
Yesterday, Flo went to work with Darren on the bus and metro very early in the morning. I followed a little later in the car with Joe. It was supposed to be his work's first annual picnic, but I don't think it was too well coordinated. There were supposed to be activities for the kids in the morning, then everyone was to head to a park for the afternoon. However, the heat index was at 110 and there was a heat advisory, so we didn't want to spend time baking in the heat. We ended up eating lunch at Darren's desk, and chatting with a co-worker and his wife and young daughter for a couple hours, and heading home. Aside from the fact that it took me three hours to get into DC because of the traffic, it was a nice day.
Tomorrow Darren's going to spend the day working on his resume. He's starting to put out more job applications, so we'll see what happens. It could be a long process, or something could come up in a month or two… you just never know!