We got back from the wedding on the 6th. Of course, we got very few good pictures after all that effort. I certainly hope the wedding photographer had better luck than we did. Though, I'm sure she did considering she had two things going for her, that we didnt; skill and no toddler to chase around. Nonetheless, we got a few shots that, at least, show the events of our trip.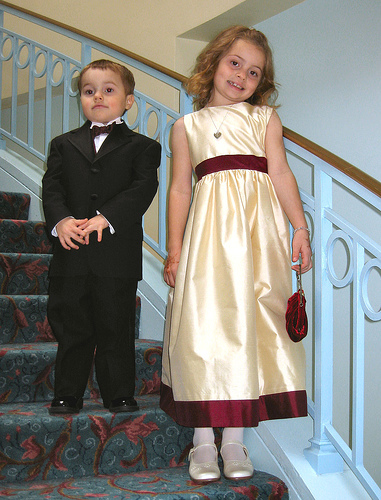 So, we've been home a little over a week, and we're back into the routine of Darren's yucky commute, toting the kids around to activities and spending our spare time sending out Darren's resume into the great employment abyss.
Last week was busy… some highlights include Flo cutting the back of her hand on a glass. This delayed us a few hours that day, as I was not sure whether it warranted stitches. It was a close call, but I dreaded the trip to the ER, where Joe would roll all over the floor in the waiting room, and we'd all probably get sick. So, I decided to get those butterfly closure band-aids and go that route. Thankfully, it seems to be healing well, and if any scar remains, it should be very minor.
Next, the kids started their Little Gym classes on Wednesday. Joe had to sit through Flo's class, before it was his turn. Of course, by this time he was tired and very excited to get in there and try out all the equipment. Well, in true Joe form, he ran all over, found it very difficult to pay attention to the teacher, and was actually asked to leave and try again next week. Yikes! I really thought there should be two teachers for a group of three year-olds; one to teach the class, and one to wrangle the kids. However, I kept my opinions to myself, as I do realize he was not being a model student. He was very upset to have to leave, and says he won't go back, but we'll see… we'll give it a go again this week.
Yesterday, I had a little bake-fest. The kids love those Chocolate Chip Clif Bars, but they're rather pricey, considering they usually eat two thirds of bar and leave the rest to bake in the sun in the car. So, I thought to myslef, "How hard can it be to make healthy-er snack bars. I made a bunch using steel cut oats, flax seed, carob chips, maple syrup, and an array of other ingredients. They turned out rather well. I could tweak them a bit. I sealed them all in plastic pouches, using one of those vacuum sealer things we got like three years ago, and have never used. Pretty handy!
Darren decided to forego working overtime this weekend, just for a little downtime and some sleep. Sometimes we get to the point where the time is more valuable than the extra money. So, we actually had a day with no hectic schedule, and it was nice. Flo went to a friend's birthday party, and had a great time. Later on we actually ate dinner together at home, and just lounged around. It was wonderful… aside from Flo and Joe fighting over who would get the blue fork, and who would sit in which chair, and who had more toys, etc….
So, tomorrow's church, a trip to the co-op for a few groceries, and Darren's playing D&D with some friends in the afternoon. I'll probably spend the afternoon cleaning and organizing stuff. I just moved our computer from downstairs to upstairs in a little nook on the landing. I'm wondering if this is going to throw off my groove. We'll see.