It's hard to believe it's March already. My 34th birthday is rapidly approaching. I'll live up 33 for a twelve days. Actually, what does it matter? Age is all relative, right? I think it's all good… aging is the goal… Not aging means not living, and I'm just getting a hang of this life thing… I could use another fifty years to figure things out a little better.
The last couple weeks have been filled with the normal activities; work, homeschool stuff, housework, kids activities, potluck dinners, trips to the grocery store, etc. Darren's back for the overtime for a week or so, so he can rest up for some more over the next couple weeks. Besides sleeping and working, Darren's been into reading history books about D-Day and the Canadian involvement in that. I watched the Oprah show on The Secret a week or so ago, and I've been into reading stuff on the universal laws and other such philosophical inquests. Flo has even joined in our family reading club by reading her first two chapter books last month. She's into fairy stuff right now.
Today yielded a muffin success story. My friend made pumpkin muffins, using one of my various experiemental recipes, for homeschool music night last night. Since they didn't contain any allergens for Joe, he scrarfed down four. This inspired me to try another one of my muffin experiments, to replenish her supply and freeze some for snacks for the kids and Darren's lunches. I just used ingredients I already had. I have several cans of sweet potato puree leftover from the holidays, so that was the ingredient upon which I built the rest of the recipe. Here's what I came up with:
Sweet Potato Cornmeal Muffins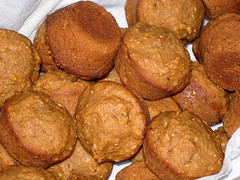 1 cup organic cornmeal
2 cups organic unbleached organic white flour
1 cup organic stone ground whole wheat flour
1/2 cup organic corn flour
2 tbsp organic flax meal
1-1/2 tsp baking soda
2 tsp baking powder
1 tbsp organic dried orange peel
1 tbsp cinnamon
1 tbsp nutmeg
1 tbsp ginger
1 cup organic sugar
1 tsp salt
1 tbsp balsamic vinegar
1 cup Earth Balance margarine (softened)
1/2 cup maple syrup
1/2 cup apple sauce
1 15 oz. can organic sweet potato puree
1 tbsp vanilla
1 tbsp lemon extract
1.5 cups vanilla soymilk
1 tbsp maple extract
Directions:
Preheat oven to 350 degrees.
In mixing bowl, add softened margarine & sugar. Mix.
Heat 1 cup of the vanilla soymilk for about 30 seconds in microwave. Add to margarine and sugar. Mix, then add the remaining 1/2 cup of soymilk.
Add remaining wet ingredients.
Slowly add in dry ingredients. Consistency should be like a think cake batter.
Fill muffin tins and bake for 18-20 minutes (pan of 24 mini-muffins); adjust according to size of muffin; the toothpick method works great for this.
Optional add-ins could be:
dried cranberries & pecans
replace the applesauce with 1/2 cup crushed pineapple & add 1/2 cup shredded coconut
Makes 72 mini-muffins or 36 regular size muffins (these freeze well… pop in your lunch box the night before, and it's thawed in time for breakfast the next morning).
Every once and awhile, in an effort to avoid convenience nutritional bars or granola bars, I go on a muffin-making spree, freezing a bunch of them. I think it's probably pretty cost effective, considering a nutritional bar averages about $1.25 each.
My pregnancy is progressing well. Despite a possible bladder issue, I'm feeling pretty good. Tomorrow is 16 weeks… Depends on how I look at it, sometimes it feels like it's rushing by and other days if feels like it's dragging along… I'm just keeping up with my exercise, trying to eat well, and hoping to feel good up until the end, rather than like the slug of a person I felt like from the middle of my pregnancy on last time. So, I've got a goal to focus on… yeah.
Right after my last entry, we got news from my good friend in New York, that her husband has cancer. Of course, hearing news like this always makes you reflect upon your own life, and it really give perspective to things. We're keeping them in our thoughts and sending them lots of positive energy.
Well, tomorrow is drawing near, and I'll have to get myself up to try to get everyone to church on-time, so I'd better go rest-up. Night!