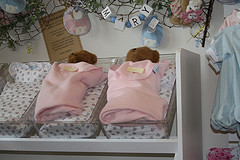 Well, we're into the hot and humid days of August. I made it through Flo's birthday adventure to the Boyd's Bear Country Store in Gettysburg, PA. We surprised Flo by inviting her friend, Dara, along for the day, and they both had a great time adopting a new bear from the Bear Nursery. We topped off the day with dinner out with Darren, and a sleepover with Dara.
As if I wasn't tired enough after Flo's birthday adventure, I decided to host playgroup the next day, and made cupcakes. After all, what's a birthday without cake? Fortunately, aside from the usual playgroup chaos, it was a nice day, and I enjoyed chatting with the moms and sharing some yummy snacks.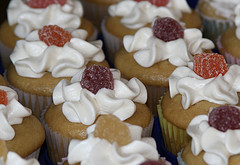 So, Flo had a great couple of days to celebrate her eighth year on the planet. I can hardly believe I have an eight year old, and now I'm going to have a newborn in a week or two! Yikes! That anticipation is becoming much more real now, and I'm getting kind of anxious and a little nervous about the upcoming changes… But, mostly, I'm just excited to meet this baby.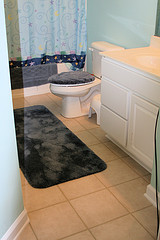 We finally finished both our bathroom flooring projects. Darren just re-installed the toilet in the kid's bathroom last night, and we finished putting away the last of the tools and miscellaneous items that were strewn around the hallway, like the shop vac, and boxes of tiles. So, it's nice to have a little more room to move around upstairs, as well as, two functioning bathrooms.
It's incredibly hot and humid out today, and I'd prefer to just sequester myself in my air-conditioned abode. But, Flo has Spanish class today, so I'm going to go pick up her friend and take them to class. I also thought I'd pick up a few non-perishable snacks to stick in my hospital bag, as I doubt the hospital has an extensive vegan menu.
Hope everyone's having a great summer!