We started the month by going to Shepherdstown, WV to check out the May Day Festivities. They have one of the few remaining Maypole Festivals in the country. It was nice watching the Morris dancers and seeing everyone dressed up in pretty costumes. Flo danced around the Maypole and Joe enjoyed just lounging around watching everyone. We ended the afternoon by having a meal at the Blue Moon Café. I can't say I was overly impressed, as there were out of half the things we tried to order, which I think left us with beans and rice and a couple green salads. But, hey, the kids didn't mind, and we got to sit down and chat for a bit.
We continued the May festivities with a Cinco de Mayo potluck with our homeschooling friends on the fifth of the month. We met at a park in Smithsburg, and the kids enjoyed an afternoon of potluck goodies and time with friends.
Our EarthScouts group is thriving. We met again this month to work on our natural journals, and the group plans to take a nature walk next month to find material for their journals. Unfortunately, we have an appointment that day, but we'll spend some time looking around a park or locally, so Flo will have time to add to her journal, too.
Joe finished up his soccer class this week. I never did attend any of them, as Darren ended up taking him. But I got to see a few videos Flo and Darren took, and I can tell he definitely has a competitive spirit. We're going to have to work on the "not being a sore loser" part. We keep reiterating that it's not who wins, but how you play the game. Of course, it's fun to win, too!
Flo switched to a new location this month for her music lessons. The "Music and Arts" store just relocated to a new shopping plaza just a couple miles from us. So, we decided to do both her lessons back to back on one day. The store is conveniently located by a Starbucks, so there's somewhere to hang out while we wait.
On the 8th, Flo went to an art class in Smithsburg, where they studied impressionist artist, Vincent Van Gogh. For their medium this month they produced their own reproductions of his "Starry Night" painting in acrylics. Flo quite enjoyed that process.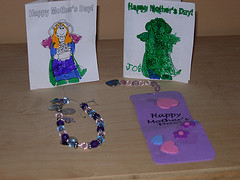 The following day, the kids did a Mother's Day craft project at a fellow-homeschooling mom's house. She hosted a little craft workshop for the kids, while the mom's chatted and had coffee. Aside from the fact that she lives on the main road, and Joe nearly gave me a heart attack jumping out of the car when we arrived and he saw all his friends, it was a nice time and the kids really enjoyed themselves. On the following Sunday, which was Mother's Day, they were excited to give me their little crafts they did for me; a bracelet and a bookmark.
On the 17th, Darren took Flo, and her friend, Megan, to a Beltane celebration with the Queen of Heaven Circle group through our church. They had a great time dancing around the Maypole and visiting with friends.
This month's geography club luncheon was on Egypt. We met on the 19th and shared some interesting cuisine and the kids wrapped themselves in toilet paper to be mummies. I thought Johni, our hostess, was very brave to offer that as an option. It looked like it was going to require some major cleanup. Flo shared some info she learned about the Nile River and had a great time. She didn't want to leave.
Our homeschooling review was due this month, so on the 23rd, I facilitated a meeting at a park in Smithsburg, where we all met to sign our forms, so they can be sent out to The Excelsior Academy in time. I always marvel at what a simple process it is, and how lucky we are to not have to endure the stress of county reviews.
The following day, my friend, Jessica, hosted a Mom's Night Out for our homeschooling group. The theme was salad and chocolate. I enjoyed a nice big salad and some good conversation, I only stayed a few hours, even though some people lingered into the wee hours of the morning. I had Zofia with me, and I was tuckered out by 9 or 10pm. Nonetheless, it's always nice to get out and chat with other moms. Makes me feel like all is well in the world.
On the 25th, we hosted another vegetarian potluck. Once again, only a handful of people showed up; this time including my friend, Julie, and her husband, Dan. I've started posting more flyers and started a group on MeetUp.com, so I'm hopeful the group will grow. I keep at it, anyway. Flo and Joe enjoyed themselves this month, playing with the other couple kids there, and enjoying some good food.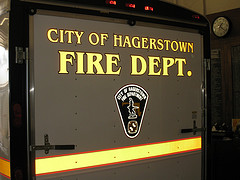 Finally, we rounded out the month with a tour of a local firehouse in downtown Hagerstown on the 29th. The woman that did our tour was actually a former homeschooler herself, which was neat. Joe even was interested enough to pay attention. He was really fascinated with the pole the firemen slide down, but of course, due to liability reasons, they didn't let the kids give that a try! The kids quite enjoyed their visit and, I think, learned a bit about fire safety, too!