Oops! Another whole season has drifted into the realm of memories now, and I've obviously neglected updating our family weblog here. The Summer is winding down, and we're already starting to schedule activities for the upcoming year and organizing ourselves for another adventurous year of homeschooling!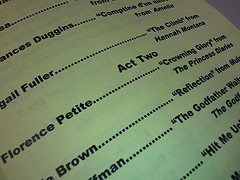 We finished off the Spring season, celebrating our 18th anniversary at the end of April, and going to camp for three days with our homeschooling group in mid-May. Then, we continued the regular pace of things into June, with regular lessons and activities, though we got a little break from the hockey routine. Flo did a number in the Spring Skate Show at our local ice rink in early June, performing a routine to the "Crowning Glory" song from the Princess Diaries 2 Soundtrack. That's on our YouTube channel (PetiteWeb), if anyone would like to check it out. Very cute!
July began with the annual July 4th Mile Long Yard Sale in our community. This is truly an event, with hundreds of yard sales going on all day within the mile or so around our home. This year, we decided not to have a sale of our own, and to just enjoy walking around. Flo and Joe had a lemonade stands with their friends, and enjoyed hanging out for the day. We managed to go the entire day without finding any "great deals," to clutter up our house. But, we did enjoy walking around, checking out some of the interesting bargains!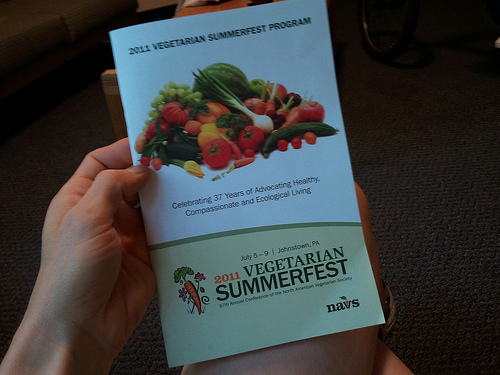 Early July found us heading to Vegetarian Summerfest in Johnstown, Pennsylvania for our fourth year. Flo went for the full five day conference with our friend, and we joined her for the weekend portion. We decided to leave Zofia home with Grandma for the weekend, and this really was the first time Darren and I got a chance to relax in quite awhile. We got a lot of sleep, rode our bikes all over campus (University of Pittsburgh at Johnstown), chatted with veg-friendly folk from all over the world, attended a few lectures, and enjoyed a few meals. All in all, I think that few days was the highlight of our summer. We had hoped to go to the first Woodstock Fruit Festival in New York in August, but with an expensive and long trip to Canada for a family reunion, we ended up crossing that off the agenda, but definitely hope to attend that next year!
At the end of July, our niece Samantha, flew down from Ontario to join me in a few day drive up to Eastern Canada for Darren's parent's 50th wedding anniversary celebration and family reunion. I left two weeks prior to the actual event, to take Joe up to a hockey camp in the area, hoping to enjoy some time in the area and visiting with my in-laws. Darren would be flying up a few days before the reunion, and driving home with me and the kids.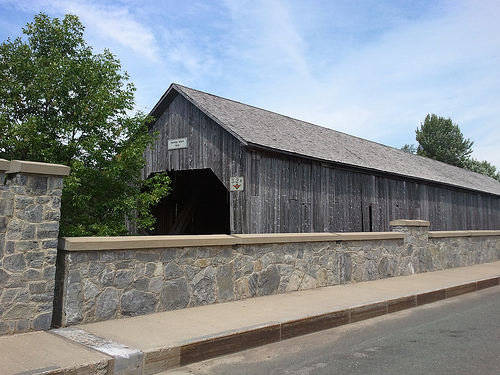 The trip up to New Brunswick was nice. We took our time, staying with friends a couple nights, dining at Whole Foods Market along the way, and staying in a couple hotels, where the kids got a chance to swim. We arrived a couple days before Joe's hockey camp started, and went to the registration meeting and got him all ready to start that Monday.
Well, Sunday night, I was startled awake by Joe, who said he fell out of bed and his chin hurt. I told him to "rub it up," and go back to sleep. He did for a few minutes, but then came back, saying it really hurt. So, in the dark, I reach up to rub it for him and it was wet and I felt a big hole in his chin. "Oh no!" So, I jumped out of bed and turned on the lights, only to confirm that he, indeed, had a huge gash in his chin. We still don't know what in the heck he did. Nonetheless, at 3am, I woke up my in-laws, who confirmed the definite need for stitches, and off Joe and I went to the emergency room. Thankfully, the waiting area was sparsely populated at 3am that day, and we got right in. Joe was stitched up by a pleasant doctor, who also homeschools his kids, and put Joe at ease. He was very brave. The worst part was the needle for the numbing stuff.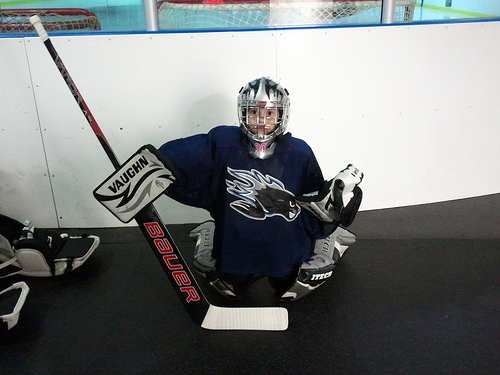 By the time we finished at the emergency room, it was close to 5am, and camp started at 7am just around the corner. With less than three hours sleep, and a big bandage on his chin that was likely to interfere with his goalie helmet, I let Joe know that it was okay if he decided he didn't want to attend the camp, as I'm sure they would have refunded us due to injury. But, ever the trooper, Joe insisted on going. Thankfully, his dad had packed a spare helmet, which just happen to fit without disturbing his bandage. But, I still don't know how he made it through the day. When I picked him up that afternoon, he was so tired, he barely made it to the car before he fell asleep. Nonetheless, his week-long goalie camp experience was worth the trip alone, as Joe had a great time, got some excellent instruction, and got a chance to hang out in his dad's hometown.
Flo, on the other hand, wasn't able to get signed up for any camps during the time we were there, and by the end, was really craving some peer interaction. But, she did get a chance to spend some quality time with her grandparents, and got to celebrate her twelfth birthday in scenic Saint John, walking around uptown, going to the city market and visiting with my mom, who had driven up for a week visit. Towards the tail end of the trip, Darren's siblings arrived, too, so Flo got to spend a couple days visiting with her cousins, which was nice. Her favorite thing about the visit was Nanny and Poppy's yard, which was right on a river, and full of trees and wildlife. She got a chance to feed the local deer residents, collect rocks and shells, and hang out in the hammock, enjoying the mild summer temperatures and pleasant breezes.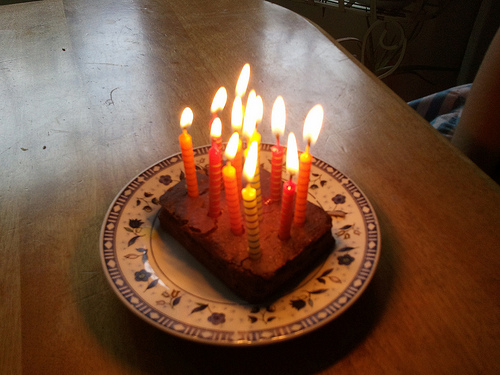 Zofia enjoyed the visit with Nanny and Poppy, too, but kept me quite busy. She was most excited about visiting with her cousin, Ella, who is just two months younger and arrived a few days before the reunion. They were so cute to watch together, and I'm glad they got to connect.
Darren arrived mid-week, just in time for all the pre-reunion prep work before the event on Saturday. I think, by then, we had exhausted my in-laws with the general chaos that is our routine, and I was becoming a weary traveler. But, Darren was happy to reconnect with his family, and though brief, the reunion was a nice opportunity to see some old familiar faces and meet some new ones. I'm sure many good memories were made, and I'm happy we make the trek up for the event.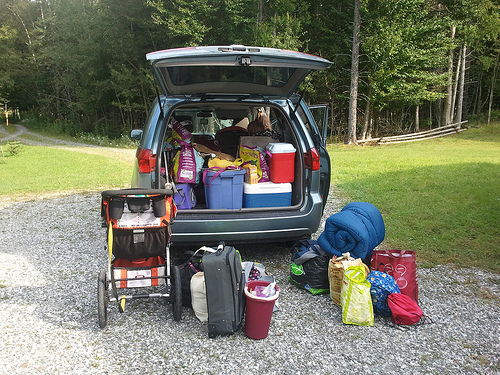 On Sunday, we bid farewell to all the relatives, and commenced our trip home, detouring through Quebec to extend the vacation a bit, and do a little sightseeing. We stopped in Quebec City and Montreal, before heading back to the States, staying one night in upstate New York in a rather shady hotel, and then our final night at our friend's house in New Jersey, before making our way home on August 18th, just in time to celebrate Zofia's fourth birthday the next day.
A couple days after getting home, I hurt my back, and have not been feeling too great since. I think the lack of sleep, and emotional ups and downs, during the almost month-long trip finally caught up with me. So, I've been spending the past week just trying to get on track with housework, scheduling the kids activities for the Fall, and resting up as much as possible Today, I spent the day in my pajamas, sorting the kids old clothes and toys for Goodwill. Of course, while I was doing this, Zofia was dismantling other areas of the house. But, at least I feel like I'm making progress! And, we're looking forward to the new "school" year and some fun activities with friends.
So, that's where we find ourselves at the end of August; reflecting on a summer already gone by. It seems like we planned for the Canada trip for so long, it's hard to believe it has come and gone already. It reminds me how quickly life goes by, and brings to mind an inspiration card we read during our family meeting yesterday, which said, "I will love where I am right now!"