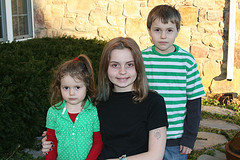 Look at that! Winter already! In fact, we're smack-dab in the middle of the holiday season, racing towards the New Year! I always marvel at how fast time seems to be going these days, and wonder if it's simply a perceptive byproduct of an overly-busy life. Nonetheless, I'm along for the ride, on which, I try, though somewhat feebly, to slow down once and awhile, so we can enjoy the beautiful views on the way to where we're going.
And this year, those beautiful views have included cherished memories of our homeschooling journey with our kids. We're convinced they're teaching us more than we're imparting to them, but I do think we're rubbing off on them a bit.
Flo is twelve now, and has put to rest the stereotype of the unsocialized homeschooler. Her schedule is full of activities. Her best friend, Megan, just moved away, so she's missing her, but, of course, she's quite the computer savvy gal, fully adept in the whole social networking world, keeping in touch with friends all over the place.
Joe just turned nine, and is still an avid hockey player. His interests this year include utilizing his massive Lego collection to build all sorts of interesting creations. He's also into the whole Star Wars story now, too. We have been fairly prudent with the TV we let the kids watch, trying to minimize exposure to violent images and such while they're young. So, up until this week, Joe had never seen any of the Star Wars movies. We were surprised how much of the story he had already absorbed just as a byproduct of the culture he's in. So, we recently relented to let him watch the original movie, which of course, he thought was the BEST movie he's ever seen!
Zofia, now four, is keep us busy with answering tons of questions, like "Why is the sky blue?" and "Why does Daddy have hair on his face?" Surprisingly, the questions of a four year-old aren't always that easy to answer. Nonetheless, we give it our best shot.
Darren continues working for the Department of Veterans Affairs out of DC, but thankfully is still working at home, only commuting one day per week to update his casework. Working at home for the past few years has been a real gift. Of course, though it does come with some distractions, since his office right off our kitchen, Darren has really enjoyed having this time to spend with the kids while they're young.
And, as for me, I keep busy facilitating the whole family enterprise. Photographer, chef, seamstress, secretary, accountant, chauffer, computer operator, story teller, therapist, philosopher … those are just some of the roles I fill in this venture, but best of all are the titles of Mother and Friend. I really am blessed.
So, as we celebrate the Winter Solstice this week and look forward to spending time with friends and family over the Christmas holiday, we hope you all are well and eager to greet the New Year with ambitious goals or simply gratitude for that which you've already achieved.