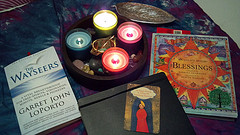 By the time we got going on our meeting today, it was already well into the evening, and I could tell the kids' attention spans would be limited. So, we kept it short and sweet this time. I made everyone a nice cup of chai tea with homemade hemp milk. We lit some candles, and said an opening prayer from A Child's book of Blessings. Then, we talked about some things we're grateful for and looking forward to, especially summer vacations.
We reiterated the importance of having a positive attitude, and how not taking care of ourselves well can affect our mood. This was in response to Joe's crabbiness, after a sleepover the previous day, where he didn't get enough sleep, and could hardly hold himself together by the time he got home. And, of course, I also have lots of experience with sleep issues, so I keep encouraging the kids to remember that a healthy sleep routine is just as important as healthy food.
We talked some "business" stuff about general budgeting and how we're saving for some vacations this summer, so we'll have to be frugal in other areas over the upcoming months. We want the kids to be aware of our money situation, but not burdened by any of it, so we keep it light and simple. Consume less = more space in your life for the good stuff.
We read a quote from the Wayseers book I'm reading about love, and how love never comes into your life uninvited. You have to be open to it (Love/Source of Life/God/etc) to truly benefit from its energy. And sometimes when we don't feel we can make it through a situation, being open to that energy of love (having faith) can pull us through, where we otherwise would feel alone in our struggle. Stopped there… don't want to get too philosophical when everyone's tired! LOL
Zofia danced around during our meeting and brought many trinkets to decorate her space on the table. We closed with another prayer from the A Child's book of Blessings and everyone went on their merry way.