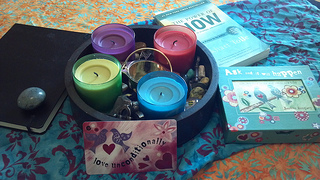 It's February, and it's all about the LOVE this month!
Love Unconditionally ~ Unconditional love is one of the greatest gifts you
can give to anyone, so why note include yourself?
Opening prayer:
The waters support and surround me.
The land extends about me.
The sky reaches out above me.
At the center burns a living flame.
We talked about just what love actually is, and the words "life energy,"
and "Universe" came up… we looked to Eckhart Tolle for a little fodder
for reflection:
What is God? The eternal One Life underneath all the forms of life. What
is love? To feel the presence of that One Life deep within yourself and
within all creatures. To be it. Therefore, all love is the love of God.
~ Eckhart Tolle, The Power of Now
Whoa. Deep! Not sure Joe's 9 year-old brain wrapped itself around the
entirety of that, but bits and peaces seeped through, and Flo has a solid
understanding of that divine spark in herself. Zofia just kept doodling
and wanting us to look at her artistic creations. Beautiful! I love
watching their understanding/exploration of life unfold. 🙂
We talked about ways we express love. The kids said things like "helping
with chores, giving hugs, being nice and telling someone you love them."
Doodled in our gratitude journal and closed the circle before Joe and
Darren had to rush off to hockey!
A good day!