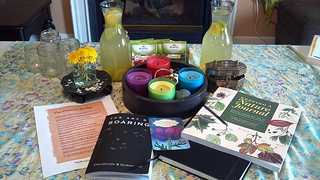 We celebrated the Spring Equinox by getting getting our seedlings planted
and talking about our plans for this year's garden. Zofia and Joe competed
for the watermelon seeds, and Flo decided to plant the herbs in her little
patch of garden this year. The other garden boxes will hopefully host an
array of veggies, including lettuce, spinach, chard, tomatoes, peppers,
squash, cucumbers and carrots.
We talked about the symbolism of Spring, including fertility and re-birth,
and how it's an opportunity to let go of unwanted energy and welcome in new
things. We all took "The Positive Pledge" from ThePostivePledge.com, along
with our continued efforts from the "Complaint-Free World" challenge, we
will continue to focus on letting our thoughts and actions reflect
optimism, faith, love, strength, determination and kindness. While Darren
and I certainly aren't perfect in the positivity department, I think just
letting the kids know that we are conscious of it, and value them doing so,
as well, is a good thing. I'm going to print out everyone a copy of the
pledge and put it around the house, as a reminder!
Today's wellness card says, "Nothing Happens Without My Having Invited It."
~ We talked about taking responsibility for the situations we may find
ourselves in and finding the lesson in the challenges.
There is no such thing as a problem without a gift for you in its hands.
You seek problems because you need their gifts. Richard Bach – Illusions
Closed the circle and played with some potting soil and seeds! 🙂
Welcome Spring!