Today's "Circle of Gratitude" rounded out our quiet and relaxing Thanksgiving day festivities, which started with a short visit from Grandma and Tom. They stayed and chatted for an hour or so, before heading off to their "traditional" buffet dinner at a local restaurant.
After our happy holiday guests departed, we sat down for a little family "gratitude circle," to reflect on the things for which we are grateful and enjoy the onset of the holiday season. Zofia helped me decorate our "sacred space" and we found a pretty purple candle, that had been hiding in the back of a cabinet, to illuminate the center of our circle. She found this most exciting, along with all the pretty rocks that she loves to leave in piles all over the house. We went around the circle, sharing our gratitude, and today we were grateful for: awareness, family, community, comfort, security, pomegranates, hockey, sitting outside in the sun, playing, colors, and eating!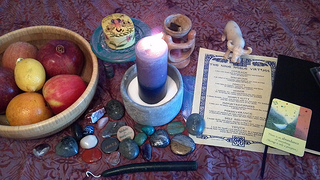 A Prayer of Thankfulness
For today, I am grateful
For tomorrow, I am hopeful
For my life, I am blessed
I thank my ancestors for their labors and survival
I thank my contemporaries for their companionship
I thank my descendants for carrying me with them
For today . . . I do my best in all things
For tomorrow . . . I honor and heal the environment
For my life . . . I work to be a healthy cell in the body of the Universe
I honor the journey of my life with conscious living
and honor the the lives of all I meet and those I will never know.
Copyright Abby Willowroot 2007
And for a little light-hearted promotion of gratitude, we shared this funny "Gratitude Dance" video with the kids.
Upon the completion of our circle meeting, Darren and I took a walk in the sun, while the kids busied themselves for a few minutes. We then indulged in our respective Thanksgiving eats. The kids dined on gluten-free spaghetti and brussel sprouts, with a crustless vegan pumpkin pie with raw coconut cream for dessert. Darren and I had decided to have a durian "feast" for Thanksgiving, and had defrosted a few for the occasion. We ate durian until we were sufficiently satiated. We all felt quite blessed for the bountiful goodness in our lives.
Now, nice and full, we lounged around for awhile, as is the tradition on Thanksgiving, whether one eats large amounts of turkey or durian, right? But, I soon tired of lounging, and tried making gluten-free muffins for the kids, incorporating the leftover durian, along with some fresh coconut, gluten-free flours, flax/chia meal, dates and water. They don't share our passion for the funky-smelling deliciousness, and detected the mystery ingredient. Well, actually, Joe came in from the neighbor's house, grabbed a muffin and declared it the best muffin he's ever had! But, I found it, half-eaten, on the counter later, so I'm thinking his first impression was overzealous, or he succumbed to suggestion, being that his big sister was making offensive gagging noises in the presence of the mystery muffins and Zofia had discarded hers on a chair, right at the level for Bruno, the vacuum dog, to suck it up. Nonetheless, even if my muffins become Bruno treats, it was an entertaining way to spend an hour.
By this time, it was only 5pm, and the kids were thoroughly engrossed in old episodes of Quantum Leap on Netflix, texting friends on cell phones, etc., so Darren and I decided take advantage of the fact that we now have a child old enough to "babysit" our younger two children, and we headed off to the movies for a couple hours. We saw "Taken 2." Definitely an action-packed flick that, if nothing else, kept us engrossed for 90 minutes.
We got home, took another quick stroll around the neighborhood to gaze at the stars on this clear night, and headed in to start the process of winding the kids down for bedtime. This is always a multi-hour process, with integrated steps, including fits of energy, teeth cleaning, pajama finding, story-reading, sleep-protesting and occasional frustration-inducing, but always, or eventually, results in sleeping children. And, if I'm lucky, once the process is complete, there is enough time and energy left for me to reflect upon the day and record its highlights for future contemplation.
For this day, I am grateful. 🙂