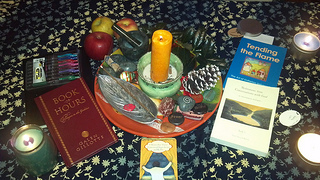 Despite the apocalyptic predictions, we survived the day, and rounded it out with a family circle meeting to celebrate our fortitude. The house was a mess, and everyone was tired, but we cleared a space, embellished it with our yuletide creativity, and honored this longest night of the year. We gave the kids each a special scented holiday candle, made by a local company. They enjoyed testing each other's scents, then lightening their respective candles to add to the glow on the table.
With cedar incense setting the olfactory backdrop, I read this prayer by Ron Adams from 2010. I thought it encompassed nicely many of our sentiments, and would give the kids something to ponder.
I pray that individuals in the world will awaken to the higher vibrations of spirituality and see all religions are connected.

I pray that people of the world wake up and realize that vast amounts of profit, greed and struggle to survive is not the purpose of life, and together we can make life work for each individual on the planet, that everyone has the right to be clothed, fed, housed, and to live in peace.

I pray that individuals will empower themselves and each other to recognize their own inner authority and not be slaves to false masters.

That people realize that their mind/body/soul has the healing power and magick power to manifest the law of abundance, the law of fairness, the law of unlimited potential.

I pray that a great shift happen on the planet, in the name of love, with the will of each person, looking for unity, peace, and respect and sharing that and giving it to each other.

I pray that the media will transform, the entertainment, the video games of the planet would shift away from violence and gossip, one-up-man ship into personal growth and development, the mystical and magickal powers of dreaming, the acceleration of intelligence, and the security of working together to make this world a sacred place, by respecting each others sacred space.
Our main topic of discussion for today was to consider ways in which we need "rebirth," giving thanks for our history, ancestors and past experiences, and setting new goals for ourselves. We took turns sharing our thoughts, and then recorded them in our family journal.
Our inspiration card for the evening was chosen by Flo from the "Ask and It is Given" deck…
"I won't put those unwanted ingredients in my pie."
Then we watched this silly YouTube clip about calendars, which Zofia found particularly engaging.
https://www.youtube.com/watch?v=ee2MHyJi_U8&list=PL2C2FBAB7E002EE3E&index=14
We finished up with some words by Joseph Campbell:
Apocalypse does not point to a fiery Armageddon, but to the fact that our ignorance and our complacency are coming to an end. Our divided, schizophrenic worldview, with no mythology adequate to coordinate our conscious and unconscious — that is what is coming to an end. The exclusivism of there being only one way in which we can be saved, the idea that there is a single religious group that is in sole possession of the truth — that is the world as we know it that must pass away. What is the kingdom? It lies in our realization of the ubiquity of the divine presence in our neighbors, in our enemies, in all of us. — Joseph Campbell, Thou Art That, p. 107
Then, we closed the circle with our traditional Unitarian Universalist prayer:
"The light does not go out. It is transferred to each of us; to share and to hold, and to bring with us when we next return."
Then we let the kids open one of their small holiday presents, then started the neglected clean-up before getting ready for bed.
A good day.