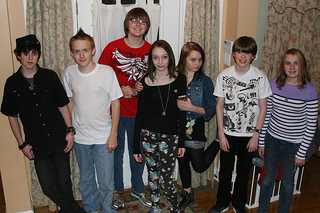 Flo had cabin fever after our quiet holiday week and then being stuck at home with the flu.  She really wanted to get together with her friends.  So, we cleaned up the house, rounded up some holiday snack leftovers, called in the homeschooling teens, and provided a social op for Flo and friends… Fun!  
The unfortunate turn of events for me, was that I was all set to get to bed at a reasonable hour and be alert for the teen get-together!  But then… the pilot light on the heater went out!  Around 1am, I noticed the smell of gas, and temperature in the house was down to 55F.  Brr.  After spending a few minutes looking for obvious possibilities, I reluctnatly woke up Darren to consult with him.  We ended up deciding to shut off the main switch, and call the repair company.  We put in a call, but the technician just got off a 17 hour shift, so since we weren't having a major emergency, we agreed to let him sleep awhile and come later in the morning.
The rather perky and knowledgeable technician arrived around 8am, and a couple hours, and almost $800 later, we had heat again, just in time for Flo's gathering in the afternoon.  So, I was warm, but exhausted by the time the first teen arrived.  But, despite my fatigue, Flo and her friends has a nice evening, and I was happy to facilitate some friend-time for my socially-deprived homeschooler!