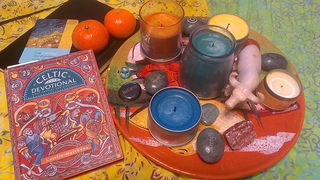 It was late on this mid-February evening, but we missed our January Family Circle, and finally had a night where everyone was home, so the kids set up our table. We spent a little time chatting, watching a short video on "meaning" from the the Spirit Science YouTube channel and writing things we "love" in our family journal. It was a nice way to wind down the day.
Today's prayer:
As the day falls into darkness, I ask my soul's teacher to help me recognize what is finished, not to manipulate the powers of life and death to keep alive what is really worn out this day ~ SELF-CLARIFICATION ~ May all the out-worn things that I have harboured find their true rest and eternal home.
Today's card from the deck:
"I am learning that all problems resolve themselves."
And, for continuity, we always close the circle with our Unitarian Universalist prayer:

The light does not go out, it is transferred to each of us, to share, and to hold, and to bring with us, when we next return.
Namaste. So mote it be. Amen… Until next time…